Call Now for Home Installation & Remodeling by My Handyman
If you're looking for quality carpentry service in Dover, Portsmouth and Rochester, you've come to the right place. Team members at My Handyman have an average of 10 years of experience and are equipped to handle everything from small repairs to major installations. And we always work quickly and efficiently, because we believe in getting the job done quickly and correctly.
Some of the benefits of hiring My Handyman include:
We are a locally owned business that adheres to national regulation standards.
Our team is prompt and professional on every project.
We make sure our work area is clean during and after service.
We have years of experience and have served over one million customers!
All of our services are backed by the My Handyman Done Right Guarantee *Call for details
For more information on quality carpentry service, call My Handyman of Dover, Portsmouth and Rochester today!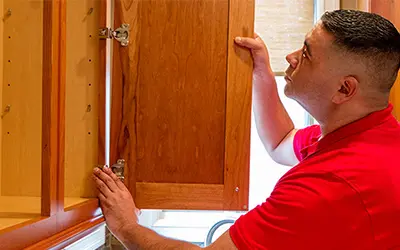 We Handle Multiple Carpentry Projects
At My Handyman of Dover, Portsmouth and Rochester, we have the skills and knowledge necessary to assist you in a full range of carpentry projects. Our goal is to be your one-stop shop for all things home improvement. Whether it's putting in new shelves or adding a mantel to your living room, we promise our technicians will be fast, friendly, and efficient.
Some of our most popular carpentry services include:
Custom Bookcases & Shelving: If you're a person who enjoys reading and has more books than you know what to do with, our carpenters are here to help. Then again, maybe you just have a bunch of knick-knacks and don't know where to store them. Either way, we can construct specialized bookcases and shelves that offer your home the space and style it needs.
Custom Cabinets & Mantels: Besides being a practical way to store items and display memorabilia, cabinets and mantels can stylishly accentuate an already attractive room. Call our technicians today, to give your space that final special touch.
Crown Molding Installation & Repair: From colonial to modern styles, when you call My Handyman, you can be sure to get the service you need. Enhance the look of your home and restore it to its former glory with the help of our professionals. This service could even increase your property value!
Don't hesitate when it comes to home improvement. Call My Handyman of Dover, Portsmouth and Rochester, and discover what your house has been missing now.
Let us help you with your Carpentry needs.