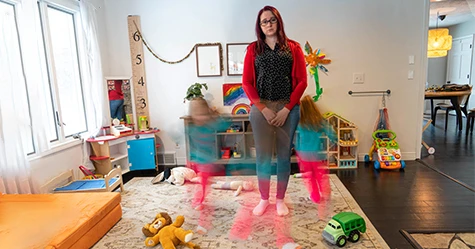 As a busy mom, you have a lot on your plate. You play the role of meal planner, grocery shopper, and chef. You keep the calendar updated with everyone's schedules and chauffeur your kids to school, band practice, soccer games, choir concerts, dance rehearsals, and get-togethers. You manage the household chores, delegating out some tasks, but doing most of the work yourself. You constantly tidy up only to have someone make a mess again. And all this is in addition to actually being a parent to your children and working a day job!
Even though you're busy, you love your family more than anything, but this hectic way of life sends some moms on an occasional tirade. Ready to commiserate with some fellow busy moms? We bet you can relate to at least a few of these common complaints moms have about their messy house.
Stepping on sharp, pointy toys in the middle of the night: Didn't you ask your kids to put these away before they went to bed?
Tidying only to find a mess two minutes later: It's exhausting clearing off the table, hanging up everyone's jackets, and vacuuming up cookie crumbs only to have your family leave their dirty dishes on the table, fail to put their coats away, and leave crumbs on the couch two minutes after you finish cleaning up.
Laundry: Enough said.
Yelling at your kids to pick up their toys: There are only so many times you can ask before you reach your wit's end. (Try these tips to get your kids to do chores.)
Clutter, clutter, and more clutter: Every horizontal surface is covered with books, school papers, mail, clothes, toys, you name it.
Feeling so overwhelmed by the clutter that you avoid cleaning altogether: If there are mountains of stuff in every room, you might feel as though you'll never get it organized. (A few de-cluttering tips should help you tackle the problem.)
Never finding time to clean that stain on the couch: It's bothered you for weeks, but you can't seem to find a spare moment to clean it up.
Guests arriving unannounced: Pop-ins from friends, neighbors, and family members can make you feel anxious if you haven't had time to clean.
Having to pick and choose between cleaning and family time: You could wash the dishes and clean the bathroom, or you could teach your kids how to ride a bike and take them to the park. How do you choose your priorities?
Looking around at a messy house when you only want to relax and drink a glass of wine: If you spend every spare moment cleaning, you have no time to recharge for the next day when it starts all over again!
Get Cleaning Help from Molly Maid
There's no doubt about it—you're a busy mama. Is the struggle of keeping up with it all taking its toll? If so, recruit Molly Maid to lend a hand! We provide routine cleaning services as often as you need us; occasional cleaning when life gets extra hectic; and one-time cleanings when necessary, such as when you're getting ready to move.
Let us tackle your most dreaded chores like scrubbing the toilet and wiping down baseboards, freeing up your day to spend more time with your family or, heaven forbid, enjoy some much-deserved alone time with that glass of wine. Our services are affordable, so you can take a break without feeling guilty.
Contact your local Molly Maid or call us at (800) 654-9647 to request a free in-home estimate for house cleaning services near you.