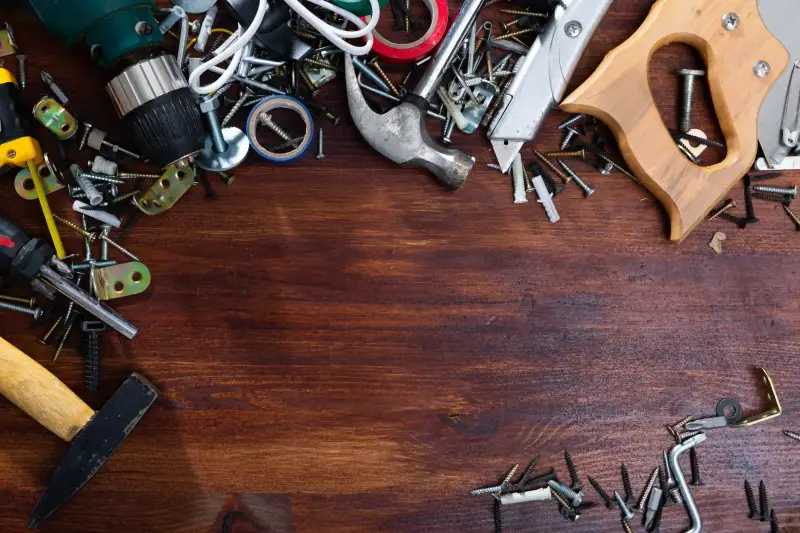 Tired of your home's existing look and seeking a refresh without breaking the bank? Don't worry! Numerous budget-friendly home improvement ideas can upgrade every room in your house, from big changes to small touch-ups.
Discover various cost-effective projects that can effortlessly transform your space and learn why partnering with My Handyman of Ann Arbor, Saline, and Chelsea is a wise choice for your next home improvement project!
Living Room Improvement Ideas
Your living room is the heartbeat of your home – a place to relax and entertain. To give it a style refresh without breaking the bank, consider simple ideas like:
Add a Bookshelf – Whether a free-standing addition or something built into the wall, shelves are a great way to add extra storage and display your favorite books or house plants.
Add a Fresh Coat of Paint – A fresh coat of paint can instantly transform the look of any room, giving it an updated feel in just a few hours. Consider adding an accent wall for contrast or mixing colors throughout the space to create an inviting atmosphere.
Clean up Your Entertainment Set-Up – If you have a lot of cords and wires in your entertainment setup, try using cord organizers to hide the mess. Additionally, consider investing in a TV mount or wall bracket for a sleek look.
Kitchen Improvement Ideas
Your kitchen needs to be both functional and pleasing to the eye. But you don't have to complete a full remodel – there are countless options for improvement that don't require a huge budget. Some examples include:
Paint or Refinish Cabinets – Instead of replacing your kitchen cabinets, consider painting or refinishing them for a fresh, updated look. You can easily transform your cabinets with minimal effort and expense.
Upgrade Cabinet Hardware – Changing out the hardware on your cabinets is an easy way to add a modern touch without breaking the bank. Choose knobs and pulls that match your style and coordinate with the rest of the room's décor.
Install a Backsplash – Installing a backsplash is an easy way to add texture and color to your kitchen without major remodeling. Choose from different ceramic tile colors to create a look you can be proud of.
Bedroom Improvement Ideas
The bedroom is where you spend the most time, so it's important for it to be comfortable and inviting. For a budget-friendly transformation, consider implementing some of these ideas:
Add New Storage – Make the best of your bedroom space by incorporating smart storage solutions, such as under-bed storage, built-in shelves, or a wardrobe with customizable compartments.
Upgrade Lighting – Installing new lighting fixtures is an easy way to give your bedroom a modern feel without requiring major remodeling work. You can even add a dimmer switch or replace your bulbs with warm tones to create an atmosphere perfect for reading or relaxing.
Bathroom Improvement Ideas
Bathrooms need to be both stylish and functional, but it doesn't have to cost an arm and a leg. Some ideas for budget-friendly bathroom remodeling include:
Update Fixtures and Hardware – From your sink to your showerhead, updating the fixtures and hardware in your bathroom is an easy way to give it a modern touch. Additionally, you can add a statement piece to really make it stand out.
Add a New Mirror – Mirrors are not just functional; they can also be stylish accessories that upgrade your bathroom's décor. Consider adding one in an interesting shape or with decorative trim for a unique touch.
Replace Old or Broken Tile – Tile adds elegance and beauty to any bathroom, but replacing outdated, cracked, or broken tiles is an easy way to give your space a makeover without too much effort. Choose from various ceramic, porcelain, stone, or glass materials to find the perfect fit.
Dining Room Improvement Ideas
Having a place for family and friends to gather is essential to any home. To give your dining room a face-lift, try some of these ideas:
Install Crown Molding – Adding crown molding to a dining room is an easy way to add texture and depth to the space without major remodeling. It can be used along the walls or ceiling and comes in various materials and styles to fit any style.
Update Lighting – A new chandelier or pendant light can instantly update the look of any dining room. Choose from various styles and materials to find the perfect fit for your space.
Home Office Improvement Ideas
In today's world, having a home office is almost commonplace. To make the best of your space, consider implementing some of these ideas:
Add a New Built-In Desk – If you have the space, consider building a custom desk to fit your home office. With built-in storage and surfaces for all your needs, it can be the perfect addition to stay tidy and increase your home's value.
Hang Stuff on the Wall – Hang a collection of inspiring artwork, motivational quotes, or personal photographs on one wall of your home office. This can add a personal touch and create a positive and inspiring work environment. Be sure to avoid drywall damage!
Garage or Workshop Improvement Ideas
Garages aren't just used for parking cars – they can be home workshops or storage spaces. Here are some ideas to transform your garage into something great without a lot of cash:
Utilize Your Wall Space for Storage – Installing shelves or hooks on your garage or workshop walls can create extra storage and help keep the space organized. This is a great way to maximize your available space for tools, supplies, and more.
Improve Lighting – Garages don't always come with great stock lighting. Choosing the right lighting can make a huge difference when it comes to getting projects done. Add task lighting to specific work areas and consider installing energy-efficient LED lights to save on electricity costs.
Get Help from Our Local Team of Handyman Professionals
Whether you need help adding something to any of the above rooms, or even a laundry room, mudroom, or other bonus family room, you don't have to do it all alone!
At My Handyman of Ann Arbor, Saline, and Chelsea, we have extensive experience and the know-how to complete a range of home projects quickly and correctly. No matter what you need, from painting to custom carpentry services and everything else in between, we're here to help get it done!
Don't let your to-do list last any longer – contact us today for help with the home improvement project of your dreams!